| | |
| --- | --- |
| | Mussels in Minutes // Edition 34 |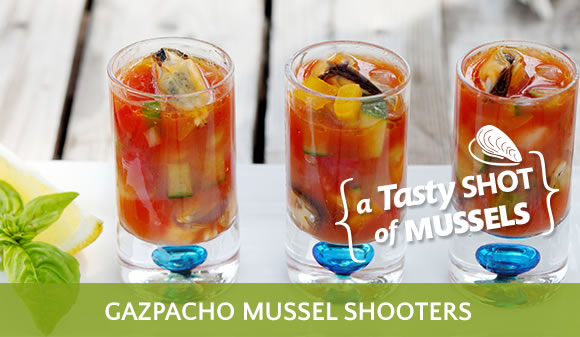 During the warm summer months, there are few things more refreshing than a tasty shooter. What you might not have ever tried, however, is a shooter featuring PEI Mussels!

Gazpacho is a fresh vegetable soup that is usually served cold. With a simple recipe to follow, try serving the soup and mussels in shooter glasses to add a fun and memorable dish to your next get together. Plus, you can always enjoy this recipe as a soup should you have leftovers.

This recipe is from the Mussels - Preparing, Cooking and Enjoying a Sensational Seafood recipe book, and was originally developed by co-author Chef Alain Bossé.



Share this dish & make your friends hungry!



MORE FUN DISHES TO SERVE UP AT SUMMER PARTIES & GET TOGETHERS
These two recipes are perfect for cooking mussels ahead of time, preparing the dish itself in advance, and then storing until you're ready to serve them up to guests. That's if you decide to share them - these dishes are so good, you might just want to only enjoy them yourself!

SIMPLE MUSSEL STORING TIPS

Inspired to try our Gazpacho recipe? We have the easy steps for storing your cooked mussels! Click here to learn more >>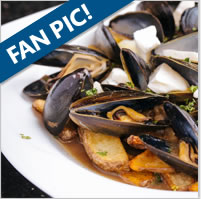 We think our PEI mussels in French onion soup with mozzarella cheese over steak fries is going to be a big hit!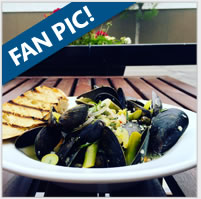 PEI #mussels with white #wine tarragon and fresh #local asparagus. #bdnmb #patiotime #comeandgetit

CONNECT, AND SHARE WITH US!